Justin Bianco was born in South Africa in 1983 and moved to the San Francisco bay area with his family soon afterward. He currently lives in Vancouver, Washington, where he is self-employed as an iOS app developer, musician, and author.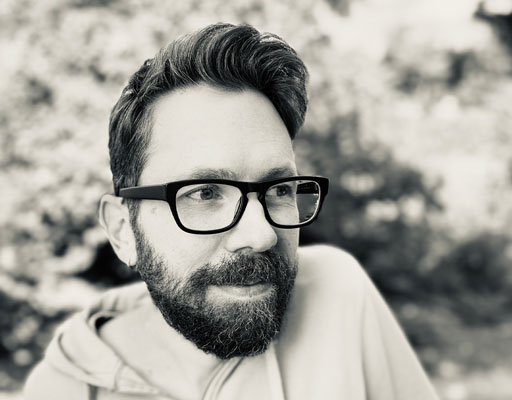 Music
Justin began making music as soon as he could reach the keys of the family piano. He later learned how to play both it and the violin via the Suzuki method, but gave up the latter after several years of instruction in order to focus his efforts on just one instrument. He played almost entirely by ear, memorizing pieces and writing some of his own. He performed one of his first compositions, "Dragonfly in Amber," at age twelve.
In his teens, Justin discovered electronic music and began creating completely different songs. Today, his electronic music is more mellow and his solo piano compositions more lively, but he continues to release albums in each realm. His 2010 release, "RE" (under the pseudonym Ambulephabus,) is a more percussive re-imagining of his 2009 solo piano album, "Kingdom Crumble."
In 2006, Justin signed with Magnatune, a non-exclusive record label that promoted an alternative view of how the music industry could work. They let customers stream entire albums ahead of time, let them choose how much they wanted to pay for an album, gave musicians half, and pioneered the sale of DRM-free music before moving to a subscription-based model in 2010. Justin released seven albums with Magnatune before ending his contract in early 2012.
Licensing
In 2009, two of Justin's songs from the album "Blackbird" were featured on the feature-length film, Etienne!, and in 2011 his song "End of Man" was used as part of a promotional video for Lana Del Rey's song, "Blue Jeans."
Licensing royalty-free, non-exclusive music directly from a musician is an extremely attractive idea for advertisers, filmmakers, game developers, and more. It keeps prices down, and gives the resulting work an added freshness that using more mainstream sources wouldn't provide. All of Justin Bianco's music is available for commercial or non-profit licensing—contact him below for more information.
Design & Production
Justin firmly believes that every facet of a product should work to reinforce its core purpose and vision, and he has personally designed and produced every album since he began recording his own compositions in 2001. He is solely responsible the overall design and layout of his book, Shipyard Rook, and painstakingly creates and refines the interface elements and icons used for each app he develops.
Writing
Justin self-published his first novel, Shipyard Rook, in late 2011. He continues to enjoy writing as a hobby and does so whenever he manages to break away from writing app documentation and website copy (which isn't often).
App Development
In 2010, facing years of economic constriction, Justin quit his day job and began working for himself. As the lead developer for MGS Development, he played a primary role in business operations and was largely responsible for the continued refinement and expansion of forScore, the music reader for iPad. In 2014, Justin assumed full ownership over forScore and its related apps as forScore, LLC.
In 2011, he founded his own company, Springbok—now called Bitpress—with the idea that small businesses should be responsible, appropriately sized, and that they should contribute to the world around them in a way that individuals cannot. As such, a portion of all proceeds from his apps are regularly donated to charities that focus on wildlife and ecosystem conservation, and his first app, King's Corner, was one of the first accessible card games for iOS.
While Justin continues to run both of his app development companies, he is always open to exploring new ideas and considers all serious offers for outside work. If you're looking for someone to develop an iOS app for you, feel free to get in touch below.
Contact Justin