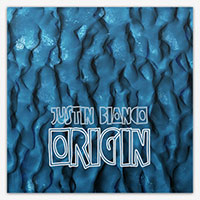 Hi all, Justin here. Today I'm very excited to announce my latest album, Origin, which will be released on June 19th. Origin began with a single track, the title track, and took me completely by surprise. I had just finished work on Kingdom Crumble, not expecting to make any new music for a while, when I sat down and wrote what I still consider to be my best song. For three and a half years I've sat on it, trying to figure out what story it was trying to tell, and wondering how I could create an entire album around it that did it justice without trying to compete with it.
Earlier this year I finally figured out what I was trying to capture with that melody. As the name suggests, it's about beginnings, about creation in the greatest sense. It's about the universe and our tireless efforts to explore and understand it. Yet the album is more personal than that. It's also about being a kid and looking up at the stars, wondering what's out there and hoping to see it someday. We all have big dreams when we're young, and too many of us let go of them and say we've just grown out of them. My biggest dream still means as much to me today as it did when I was five, and I think that's true more often than not.
This album is very important to me, and I truly believe in that message: that we can all follow our hearts and realize our dreams if we refuse to give up on them. My dream is to see space, and the earth from above, and I'm going to make it happen. In the next few days I'll be posting more information about my plan to send a weather balloon up into the atmosphere with a camera attached to it, and I hope you'll participate. It's going to be a lot of fun, and I can't wait to share it with you. In the mean time, I challenge you to stop for a moment and think about the dream that made you wide-eyed when you were young. What if you went for it?
Update: Find out more about Project Zephyr here!
Update 2: Origin is now available on iTunes.